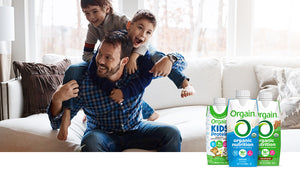 - Courtney
Orgain Customer
I have Chrohn's Disease, a host of food allergies and problems just getting in enough nutrition. I have little to no appetite most of the time, and have to eat very small portions. I struggle to get enough calories and vitamins in. Orgain's vegan shakes and protein bars are a literal life saver. I often have no appetite, and can keep either a shake or bar nearby and eat very slowly on it--which gets the calories in, but I don't feel rushed to eat a whole meal. And the ingredients are completely safe for me to eat--I don't have to worry about if what I'm putting in my body is going to make me sicker. Oh--and they taste great as well which makes the task of eating less stressful and I'm starting to enjoy it again. Thank you, Orgain for what you do!
- Rayna
Oncology Dietitian
Working with the oncology population, I know just how detrimental it can be to not consume adequate calories and protein. Unfortunately, many of my patients and clients are at risk of becoming malnourished because their caloric demand is increased. Orgain allows these individuals the chance to add more nutrition in a clean, wholesome, and delicious way! I feel confident using Orgain as a tool in my toolbox to help optimize my patient and clients' nutritional status.
- Seper
Gastroenterologist
Orgain hits all the elements important to my patients, such as affordability and taste, and also gives me confidence as a Gastroenterologist that I'm providing patients a clean, hypo-allergenic product that is well-tolerated. I use the nutritional shakes on those who need supplemental calories, even via feeding tubes, and the protein shakes for my post-bariatric patients on modified diets as well as those on weight loss programs. Orgain is the go-to in my GI practice.