Collagen replenishment for your hair, skin, nails and joints*
THAT all systems
glow FEELING
20g Grass-Fed Collagen
supports your hair, skin, nail, and joints.*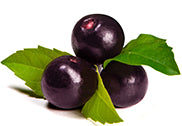 11 Clinically Researched Superfoods
Acerola Cherry, Blueberry, Strawberry, Maqui Berry, Açai, Tart Cherry, Kale, Broccoli, Green Tea, Green Coffee Bean, Turmeric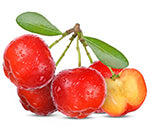 20% Daily Value Vitamin C
from acerola cherry boosts immunity and supports collagen absorption and synthesis.*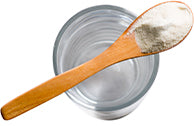 No Soy, Dairy, or Gluten Ingredients. And it's flavorless and mixes easily!
We make it easy to incorporate this into your diet however you like!
HAIR, SKIN, NAIL & JOINT SUPPORT
Oatmilk Vanilla Latte
Ingredients
8oz fresh brewed coffee
4oz oatmilk
1 scoop Collagen + Superfoods powder
1 tsp vanilla
1 packet (1/2 tsp) stevia
pinch of sea salt
dusting of cinnamon
Also need: Microwave safe glass jar with lid - a canning jar works great!
Instructions
Pour freshly brewed coffee into a large mug.
Add Collagen + Superfoods, vanilla, stevia and sea salt. Mix well.
Secure the lid to glass jar and shake oatmilk vigorously for 30 seconds to achieve froth.
Pour frothy oatmilk over coffee mixture.
Dust with cinnamon.
Serves 2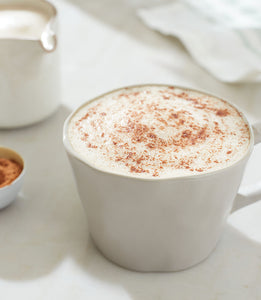 Piña Colada Collagen Smoothie
Ingredients
1 cup lite coconut milk from the can
2 cups frozen pineapple
2 scoops Collagen + Superfoods powder
Instructions
Add all ingredients to a blender.
Blend until smooth and serve.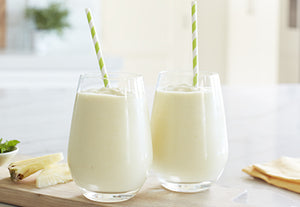 Peanut Butter Banana Collagen Muffins
Ingredients
2 eggs
1 cup peanut buttter
1 mashed banana
1 scoop Collagen + Superfoods powder
Instructions
Combine all ingredients in a bowl.
Blend with an electric mixer.
Divide the batter into a muffin pan and bake for 15-20 minutes at 350°F.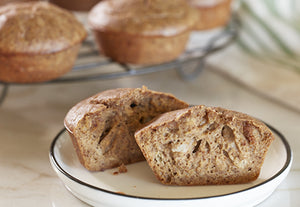 Blueberry Overnight Oats
Ingredients
1/4 cup of water
1/2 cup of greek yogurt
1 tablespoon of honey
1 teaspoon vanilla extract
1/2 cup of rolled oats
1/4 cup blueberries, frozen or fresh
1/2 teaspoon salt
1 scoop Collagen + Superfoods powder
Instructions
Combine water, yogurt, honey, vanilla extract, and Collagen + Superfoods in a small bowl.
Add the rolled oats, blueberries and salt. Mix thoroughly.
Pour into a mug/mason jar/small bowl.
Cover with saran wrap or lid.
Store in the fridge for 8+ hours, preferably overnight.
When ready, top with fresh blueberries, give it a stir, and enjoy!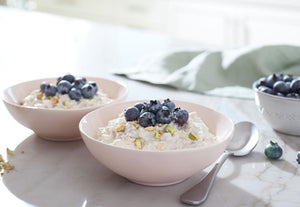 Why collagen?
Collagen is a key structural protein that helps make up our hair, skin, nails, joints, tendons and more. As we age, our body's natural collagen levels begin to decline. Replenish with a daily collagen supplement to support your hair, skin, nails, and joints.* Feel, move, and look your best with Orgain collagen.
* These statements have not been evaluated by the Food and Drug administration. This product is not intended to diagnose, treat, cure or prevent any disease.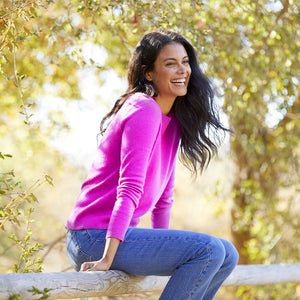 Ingredients:
Grass-Fed Collagen - 20g of grass-fed collagen to support your hair, skin, nails, and joints.*
Vitamin C – The rich source of vitamin C - from Acerola Cherry - supports collagen absorption and synthesis, plus it boosts the immune system.*
11 Superfoods – The Phyto-C® Superfoods blend is clinically proven to support immunity.* And if you're seeking polyphenols, this blend packs 31.5mg of polyphenols per serving.