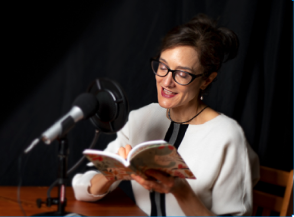 THE GOOD, CLEAN
NUTRITION PODCAST
Sponsored By Orgain
Stay in-the-know on the hottest trending topics in health and nutrition with The Good Clean Nutrition Podcast, sponsored by Orgain. Join host Mary Purdy, MS, RDN, an integrative dietitian and nutrition educator, as she speaks with some of the most inspiring and passionate subject-matter experts in nutrition, health, and wellness. Each episode of this award-winning podcast explores the science behind popular trends in nutrition and health, debunks common myths, and provides healthcare professionals and health-minded consumers with practical insights from trusted experts.
Latest Episode
Episode 29: Understanding Food As Medicine with Doctor and Chef, Robert E. Graham, MD
In this episode of The Good Clean Nutrition Podcast, host Mary Purdy, MS, RDN, speaks with Doctor and Chef Robert E. Graham, MD, who is a Harvard-trained researcher, physician, food activist and chef, to discuss the "Food As Medicine" approach. Tune in as they take a deeper dive into the role food can play in helping patients improve their health to live happier, more fulfilling lives. Read More
Play Episode
Recently Aired
Episode 4: The Science of Sugar Addiction: A Look at the Latest Research with Dr. Nicole Avena
Can you be addicted to sugar? In this episode of The Good Clean Nutrition Podcast, host Mary Purdy, MS, RDN, is joined by acclaimed research neuroscientist, sought-after speaker and pioneer in the field of food addiction, Nicole Avena, PhD, to discuss the science of sugar addiction – a topic hotly debated among healthcare professionals. Tune in to hear Dr. Avena share about the key findings from her groundbreaking research, the process of establishing criteria for...
Read More
More Ways to Listen
Subscribe to The Good Clean Nutrition Podcast and be among the first to know whenever a new episode is available. Stream or download via these podcast apps:
Disclaimer: This podcast is for informational purposes only and is not intended to be medical advice. The material discussed on this podcast, and displayed on the associated webpage, is not intended to be a substitute for professional medical advice, diagnosis or treatment. Always seek the advice of your physician or other qualified healthcare provider with any questions you may have regarding a medical condition or treatment and before undertaking a new health regimen.