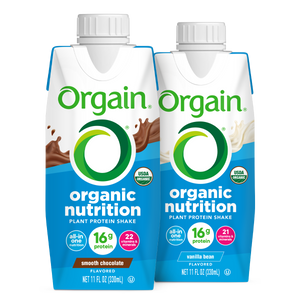 Vegan Organic Nutrition Shake
My fav Orgain product
Written by: Andrea R.
I've been using this product for years. It is my go to beverage for a meal replacement or post-workout protein boost. The best flavor available IMHO.
Convenient when out and about
Written by: Jessica Z.
I love packing these in a bag as a snack when I'm at work or running errands. They taste great and are nice and smooth.
The Absolute Best Protein Shake
Written by: Phyllis W.
I have tried many protein shakes and this one is the best! One of the things I attribute to its great taste is the fact that there is no stevia in it. Many people, such as myself, abhor the taste of stevia and will not purchase anything containing it. Thanks Orgain for providing a great high protein shake that tastes great.
ORGAIN RECIPES
Give your cooking a kick in the nutrition.
VIEW MORE