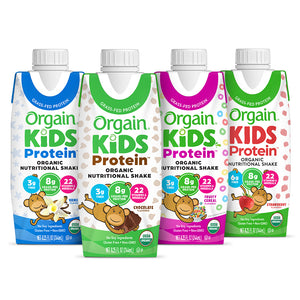 Orgain Kids Grass-Fed Protein Organic Nutrition Shakes
My toddler loves them!
Written by: Lauren M.
My almost 4 year old loves every flavor, and they are a super easy way to get in a protein-rich breakfast before school. My go-to!
Morning protein
Written by: Melissa J.
Kid's Protein Organic Nutrition Shake is a great way for my grandson to get a good supply of protein before school. His mom doesn't always have time to prepare a healthy breakfast so the protein shake ensures a good nutritional start to his day. He loves all three flavors.
Kindergarten Lunch Addition
Written by: Ahmet G.
My daughter really likes these chocolate shakes and we give it to her as a part of her kindergarten lunch. I had bought milks before but she seems to just enjoy this one! I also drink them sometimes.
Great Snack
Written by: Petie M.
Buy these for my grandkids and they love 'em. This is a much healthier snack than gummy bears or cookies and the kids now ask for them instead of the high sugar snacks.